December 26th was a great scrappy day. I hosted an online crop at
Have Your Way With Paper
and got SEVEN pages done - some I like better than others but - you know how that goes...

Christmas 08 - Jackson and Santa. This was the first year that Jackson really wanted to see Santa at the mall - he went right up to him and chatted him up. The only thing he really wanted was a "Buster" from My Friends Tigger and Pooh and lo and behold it showed up in his stocking!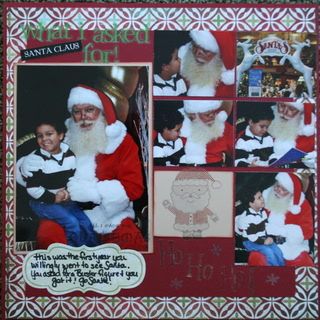 While I was in the Christmas Spirit I got the chance to scrap this beautiful picture of my girlfriends in KC known as the "Core Four" The DCWV paper was from a stack that Dr. CJ bought me to do her Christmas boxes for her staff.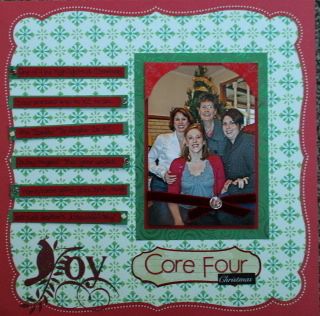 This one I absolutely love! The idea was in response to a challenge to piece together a background with Patterned paper - the Fancy Pants All Fall and Daily Grind seemed the perfect line for this sweet pic of Jackson and my Daddy. You'll notice in the next couple Layouts that I'm totally addicted to the Daily Grind Chipboard shapes!!!
This one involved me pushing a lot of elements around until they seemed to make sense...I am really in love with the title...I used the Daily Grind chipboard and layered KI letters and Robins Egg beads to make the bubble effect. This one still needs some journaling but I find it fun...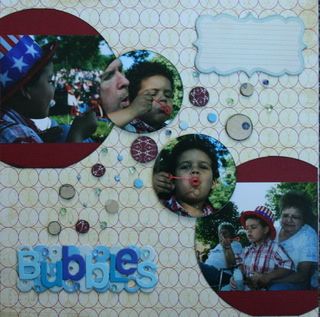 This one was a labor of love and the photo doesn't really do justice to the glitter in the accents and the rich lush paper that I got to work with but it was so awesome to play with this crate paper line and do something a little bit artistic. It was loosely lifted from a LO on The Scarlet Lime DT Gallery. The photos were taken in Galena back in September. This was a road that Ulysses S Grant use to travel every day to get to the office and Jackson decided he wanted to climb up to the top!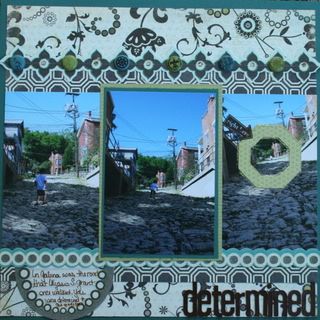 One last one to share today - hoping to get some pictures back from our various Christmases over the next few weeks and get started on the major scrapping that will need to happen! I'm toying with the idea of just doing a Christmas '08 album due to all of the different things that happened and the addition of James and Josh and Chad to our celebrations...we'll see
This was also a challenge layout to do one of myself. I pulled out my big box of embellishments and just started throwing things together. The GORGEOUS Pink Paislee Kit that I got from
The Scrap Room
provided the color palatte (gotta love the pink with that green) and after that I was just playing with whatever my hands landed on. The labels and stickers and rubons are Basic Grey and the felt is Queen and Company. Everything else was from the kit!
Thanks for looking! Happy New Year this week!!!