Welcome to the Over the Rainbow blog hop! One of the things scrappers love most is COLOR! During this journey you'll encounter all seven colors of the rainbow and some of our favorite things about those colors. In order to play along all you need to do is leave a comment on each blog saying what you love about the color featured on each blog. You can even just tell us your favorite thing (scrappy or not) that is that color! Once you reach the pot of gold, post ROY G. BIV!! and you're done and ready to start cropping with us!
Hi! thanks for visiting my blog! I am featuring the color Violet. It's ironic that I picked Violet since eggplant purple is one of the colors for my wedding in July! Everything in my world is a shade of dark violet right now...on the other hand its a color that I have never used in scrapping at all besides as a small accent color like on this layout.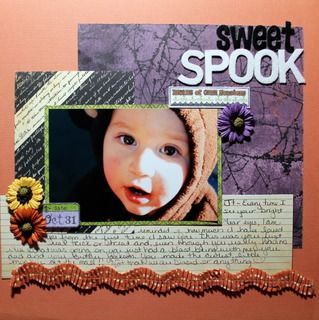 So I have a challenge ahead of me learning how to scrap in purple...Speaking of challenges...leave a comment on my blog with how you have overcome a scrappy challenge and be registered for an adorable kit from S.E.I.

If you started with Jenny's blog then you have officially completed your rainbow and its time to head over to Lisa's blog to continue the fun!

Be sure to join us at Have Your Way With Paper for our "Lucky You" Crop next weekend - fun and prizes for all! Thanks for playing and we'll see you there!